Captivating Cairo & Alluring Alexandria
Explore Egypt's two largest cities on this six-day land adventure. See the magnificent Pyramids of Giza and Saqqara while discovering the great Islamic and Christian monuments in Cairo. Enjoy life on historic Egyptian streets where the locals tend to mingle with the visitors. Then travel to the city of Alexandria to see the Roman and Greek influences. We can't leave Alexandria before we acknowledge its great contribution to the area of academics through its magnificent library.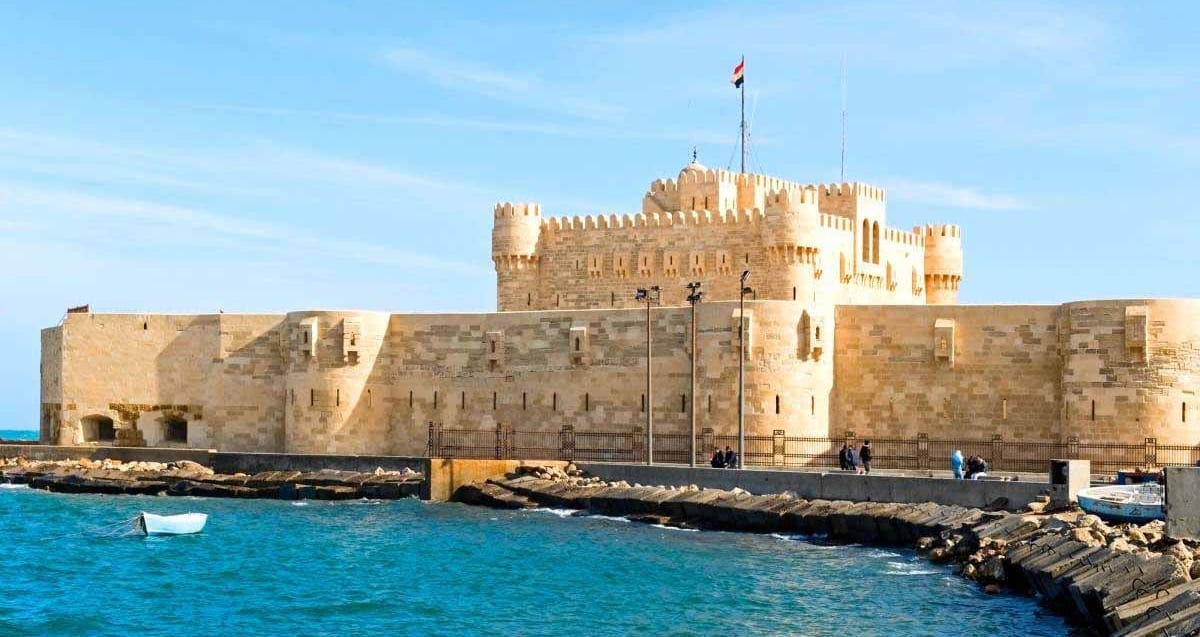 Today you arrive in Cairo International Airport and meet with the tour coordinator and driver. They will help you navigate your way through the airport and escort you to your hotel. Once at the hotel, the tour coordinator will provide details regarding Day 2 Excursions. You will spend the night in the hotel and awake for a day full of adventure.
After eating breakfast at your hotel, you will be met by the Egyptologist who will provide your full day of touring. The adventure begins west of the Nile River in a town called Giza.
Ptah was the local god of the town of Memphis, our next location. He was a patron of artisans and craftsman and was also considered a creator god. Memphis was founded in 2925 BC, and the Egyptian king Menes helped to unite upper Egypt and lower Egypt. In fact, Memphis was the capital at one point during the Old Kingdom. Memphis is an open-air museum with many things to see such as a statue of Rameses II and the famous 80-ton sphinx made from one gigantic piece of alabaster.
The next stop for today will be the ancient city of Saqqara, an amazing display of how tomb and pyramid-building progressed. Saqqara is a necropolis containing burials from different dynasties. It includes both royal and nonroyal tombs, mastabas, and cemeteries. We continue to the Serapeum of Saqqara where we will enter a series of tunnels to see the sarcophagi of the Apis bulls, sacred to the god Ptah.
Once we conclude the morning tours, we will enjoy a quick lunch as we head toward Egypt's most visited attractions—the Pyramids at Giza and the Great Sphinx. Built for three kings of the Fourth Dynasty, the pyramids were designed to be the tombs of Khufu, Khafre, and Menkaure. In addition to the three main pyramids, you will see the queens pyramids and the Great Sphinx.
The driver will return to your hotel, any you will be at leisure for the evening. Overnight in the hotel at Giza. Meals included: breakfast, lunch
Our first stop will be the Egyptian Museum. This museum houses over 120,000 artifacts from Egyptian history. Some of their most famous include the entire collection of Tutankhamen. Your guide will introduce some of the many important pieces as well as allow you some time to wander through the museum to peruse the collections. Once we finish with the museum, we will head to Abu Tarek for lunch. Abu Tarek is a multi-story restaurant that serves wonderful Koshary. It is definitely a special Egyptian treat.
You might have noticed a wall in parts of Cairo. This wall served to protect ancient Cairo and another city called Ayyubid from the Crusaders. Sala-Al-Din (Saladin) was the leader of the Ayyubid, and he decided to fortify both his city and ancient Cairo with this wall. It proved to be quite formidable as the Citadel of Saladin was nearly impenetrable. Today, as we learn about the history of the Citadel, we also venture inside the walls to the highest point, the Mohamed Ali Mosque. This ancient mosque is quite beautiful and will provide greater insight into the religion of most Egyptians, Islam.
Next up is the Khan el Khalili Bazaar. It is a wonderful depiction of an ancient outdoor shopping center. You will have the opportunity to wander the narrow alleyways and see many items unique to the Egyptian markets. As you continue to wander, you will have the opportunity to traverse Cairo's oldest street—El-Moez Street. This pedestrian only street, just beyond Khan el Khalili, is an open-air museum and runs over half a mile. Moez Street is less touristy and provides those who travel it a unique look at Islamic architecture.
We then drive back to your hotel at Giza for the evening at leisure. Meals included: breakfast, lunch
**Ladies please consider bringing a scarf with you on our tour today. It will be needed to enter the Mohamed Ali Mosque. Also, conservative dress is required while inside the mosque.
Our day commences with visits to both Coptic Cairo and then to the Monastery of St. Simon. Coptic Cairo where we will have the opportunity to see many Coptic churches and influences for Egypt. In addition we will have the opportunity to visit the Ben Ezra synagogue, which is believed to be the site where baby Moses was drawn out of the water. We will then drive to the Monastery of St. Simon. The journey to get there is a bit arduous as you will pass the Zabaleen village. Translated, Zabaleen means "garbage collectors". In 1969 the Cairo governor moved all the garbage collectors to one area. Most of them were Coptic Christians, and as their numbers swelled, the need for a larger church was established. While you will pass all the garbage collectors in Cairo, you will end the journey in the largest Coptic Christian Church in the middle east. St. Simon is built into the cliffs and is an amazing site to see.
We will then start our few hours toward Alexandria and overnight there. Meals included: breakfast, lunch
Enjoy breakfast in your hotel as you prepare for a wonderful day in Alexandria, a city with many Roman and Greek influences. We begin with one of the Seven Wonders of the Medieval World, the Catacombs of Kom El Shoqafa. This catacomb is a mixture of Greco, Egyptian, and Roman art. It is believed to have been built for one family, but eventually transformed into a community catacomb.
Next, we will drive to the Pompei Pillar. It is hard to imagine that this pillar weighs approximately 285 tons and was carved out of one piece of red granite. It is located on the grounds of the Serapeum of Alexandria and has two sphinx statues near its base. Our tour continues to the Alexandria National Museum. The museum is located in an Italian styled mansion and was the former home to the American consulate. Today, it has an extensive collection of artifacts that tell the story of Alexandria.
Another important stop in Alexandria is the Great Library. At one time in history, Egypt was known to have one of the largest libraries of the ancient world. It housed many papyrus scrolls and became regarded as the capital of knowledge and learning. As we visit the library, we will not only see many parts of history, but we will see how it has continued to remain a modern place for learning.
Before our return to Cairo we will stop at the beautiful Montazah Gardens. Surrounding the former presidential palace of first Anwar el-Sadat then Hosni Mubarak, the gardens are vibrant and very relaxing. We will enjoy them for a while before we drive back to Cairo for the evening where we will spend the night. Meals included: breakfast, lunch
Today will be the final day of our tour of the amazing Egypt, and we will take you back to Cairo International Airport to catch your flight .Thank you for spending the time with us.
No. of Travelers

Solo Traveler

2-3 travelers

4-6 travelers

7+ travelers

Season

Per Person in Double/Twin

Single Supplement

Per Person in Double/Twin

Single Supplement

October 2019 to April 2020

$1699

$1049

$399

$949

$399

Please request a quote for a special Group Rate

Christmas 2019 and Easter 2020

$1899

$1249

$449

$1149

$449

May to September 2019

$1449

$979

$249

$879

$249
Prices are quoted in US Dollars per person per tour package and valid only during the selected season as shown above. Single supplement is ONLY to be added to the per person in double/twin rate, when you tour with others and choose to have your own single room.
Reservations should be made as early as possible to book the desired holiday. Space on a given tour will be secured upon receipt a deposit of 25% of the full price. This deposit will be 50% during the Christmas, New Year and Easter holidays. This deposit counts as part of your final payment. Deposits can be made by bank wire transfer, Cash, Personal or Bank Check, or paid using a credit or debit card (Visa, MasterCard, Discover or American Express). Deposit must be received within 7 days of booking. Full payment is due not later than 60 days prior to the tour start date.